Tuesdays with Morrie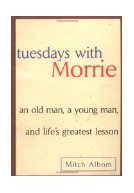 This Book @ Amazon.com
(From $5.66)
This Book @ Amazon.ca
(From $CAN 25.34)
This Book @ Amazon.co.uk
(From £9.95)
Related Products (usually books and/or movies)
No Similar Book Found

Other Books by Mitch Albom listed on BestInspiration.com
Quotes & Excerpts
So many people walk around with a meaningless life. They seem half-asleep, even when they're busy doing things they think are important. This is because they're chasing the wrong things. The way you get meaning into your life is to devote yourself to loving others, devote yourself to your community around you, and devote yourself to creating something that gives you purpose and meaning.
By Morrie Schwartz
| comments
Rate this quote:
Rating: 8.33 | Votes: 45
BestInspiration.com Visitors' Reviews / Comments
Submitted by Unknown
A marvelous book - I have never read a more moving story. Read and re-read this book; you'll be glad you did!


Submitted by Unknown
Everyone should read this book. It will teach you lessons that make you look at life & peole in a whole new way.


Submitted by Unknown
This is a very powerful book about feelings and everyone - especially men - should consider this a staple in their library. The actual footage of Morrie and Ted Koppell really help bring the book to life and a must see for any Tuesday with Morrie fans! READ IT - IT IS WORTH IT!!!!

Submitted by Unknown
This is one of the most wonderful books I have had the privilege of reading. Even as a young African-American woman, I could easily understand and appreciate the life lessons taught in this book. It was also a quick read (something any college student loves.) I wholeheartedly recommend Tuesdays with Morrie to anyone with a heart.

Submitted by Unknown
This book was wonderful! Beauty of the human spirit was in every chapter, wisdom of age and friendship, laughter that was unexpected and shared joy and sadness in the being of Morrie, and the passing of Morrie.

Submitted by: Liz from Salt Lake City
Made me examine my life to see if I was doing the really important things with it.

Submitted by Unknown
Such a simple way of looking at what life really is all about.

Submitted by Unknown
Tuesdays with Morrie was given to me as a gift by my dearest friend, and it moved me so much I have decided to give it to everyone I know on their birthdays this year. Everyone can find a spot for Tuesdays with Morrie on their bookcase.

Submitted by Unknown
The basic principles of life, only in this case Morrie is dying and he is instructing his view of life. LOVE

Submitted by Unknown
Honestly, I have never read a more moving and emotional book than Tuesdays with Morrie. There were points where I had to set the book down, wipe away tears, and regain my composure. Mitch Albom gives a truly remarkable account of his interactions with a truly remarkable human being.

Submitted by: stephanetest12 from Canada
I loved this book, and I cried because I was genuinely touched (no, I don't cry easily). Highly recommended.

Submitted by: dreamchaser63 from Florida
I truly enjoyed this book, actually I loved it and I read a lot of books. The movie was wonderful also.

Submitted by: ImWithTheDrummer94 from New York
My 8th grade Language Arts clas is rading this every day.....and even though i dont read alot...i have never read anything better than Tuesdays with Morrie. it is the most beautiful, simple, and touching book i have ever read, adn i am very happy that my teacher picked it. to tell you the truth, all of teh girls in my class (EVERY DAY), when we read this book mare either laughing, crying, or going "aaaaawww....." this is a MUUUUUUUST READ....NO MATTER WHAT YOUR AGE

Submitted by: jacelviterbo from philippines
i really love this book.
it inspires me a lot..
it makes me think positive in every hardship that i encounter.
i really love mitch albom..