The Five People You Meet in Heaven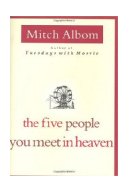 This Book @ Amazon.com
(From $3.20)
This Book @ Amazon.ca
(From $CAN 9.17)
This Book @ Amazon.co.uk
(From £5.82)
Related Products (usually books and/or movies)
No Similar Book Found

Other Books by Mitch Albom listed on BestInspiration.com
Quotes & Excerpts
No Quote Found
BestInspiration.com Visitors' Reviews / Comments
Submitted by: SNACKY from LONG ISLAND
THIS WAS A GREAT BOOK ONE OF THE BEST I'VE READ. THE FIRST CHAPTER ALONE PULLS YOU IN AND YOU JUST WANT MORE. I READ THIS BOOK AT WORK YESTERDAY IT ONLY TOOK 1 DAY AND WAS WORTH IT. I JUST NEVER WANTED TO PUT IT DOWN.

Submitted by Unknown
An outstanding piece of work - the hopes and dreams that come after reading this book is so overwhelming you will only pick up the book and read it again and again....