The Alchemist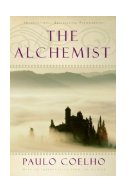 This Book @ Amazon.com
(From $18.38)
This Book @ Amazon.ca
(From $CAN 25.99)
This Book @ Amazon.co.uk
(From £11.93)
Related Products (usually books and/or movies)
No Similar Book Found

Other Books by Paulo Coelho listed on BestInspiration.com
Quotes & Excerpts
No Quote Found
BestInspiration.com Visitors' Reviews / Comments
Submitted by Unknown
simply the most important book i have ever read, and i recommend it to everyone

Submitted by Unknown
This is a wonderful story illustrating the importance of following your heart.

Submitted by Unknown
looking after our soul, read this journey

Submitted by: Jae from USA
This is as simple as a the best cup of tea on the most perfect fall day.

Submitted by: amar from india
the best book i read till now which inspires motivate to follow ur dream's.

Submitted by: tapasya from india
extremely inpiring!

Submitted by: smb2001 from India
wonderful and different....the one book which inspired me the most!!!! unforgettable!