What Dreams May Come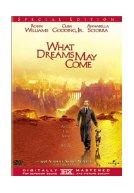 This Movie @ Amazon.com
(From $4.74)
This Movie @ Amazon.ca
(From $CAN 5.95)
This Movie @ Amazon.co.uk
(From £4.61)
Related Products (usually movies and/or books)
No Similar movie Found

BestInspiration.com Visitors' Reviews / Comments
Submitted by: "Tatina and Tatino" 88-87 from Porto Sant' Elpidio Italy
I have seen this mouvie yesterday for the first time and i think that it is incredible!!!!!!! the special effects are wonderful...it's really a good film ...more beautiful than robin Williams is Annabella Sciorra...She is a very good dramatic actries...

Submitted by Unknown
The best movie at explaining reincarnation

Submitted by Unknown
One of the MOST inspiring love stories I've ever seen!

Submitted by Unknown
Beautiful - artistically and spiritually

Submitted by Unknown
This movie should come with a warning, "Caution: Watching this movie may cause emotional trauma in anyone who has experienced the loss of a spouse in the past 3 years."
But it was a beautiful movie and the sentiment was wonderful, and yes, I would do it all over again, too.