Tuesdays with Morrie
Warning
: Creating default object from empty value in
/home/common_NEW/movies/moviesfunctions.inc
on line
289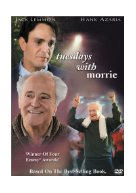 This Movie @ Amazon.com
(From $22.50)
This Movie @ Amazon.ca
(From $CAN 24.99)
This Movie @ Amazon.co.uk
(From £3.71)
Related Products (usually movies and/or books)
= Amazon.com   |   
= Amazon.co.uk   |  
= Amazon.ca.
BestInspiration.com Visitors' Reviews / Comments
Submitted by Unknown
It's a beautiful movie about how we should enjoy life instead of looking for pain and sadness. It's based in a true story, which makes the movie more realistic. Morrie is performed by Jack Lemmon, a brilliant actor.

Submitted by Unknown
Tuesdays with Morrie is an amazing true story played by two fantastic actors Jack Lemmon and Hank Azaria. It really makes you think about your life, and stirs wonderful emotions inside It is a guy and chick movie. well worth the effort to watch.

Submitted by: Nicholas from Singapore
This is an amazing touching story. Realizing it is a true story, touches me even more. It's a rarity to know such a person like Morrie, uncorrupted by the systematic lifesytles we follow daily for material gains.

Submitted by: smilekapoor from Chennai,India
A guru is one who shows us the right direction in life and helps us to realize the grate gift called life. Tuesdays with Morrie, has such a great content in it.In today's world a teacher like Moorie is rare,but still we have some Moorie with us. Very emotional and inspiring movie. My perspective with life is improved after watching this movie.