The Wizard of Oz
Warning
: Creating default object from empty value in
/home/common_NEW/movies/moviesfunctions.inc
on line
289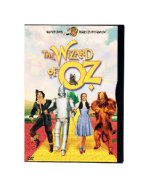 This Movie @ Amazon.com
(From $5.50)
This Movie @ Amazon.ca
(From $CAN 20.00)
This Movie @ Amazon.co.uk
(From £16.89)
Related Products (usually movies and/or books)
= Amazon.com   |   
= Amazon.co.uk   |  
= Amazon.ca.
BestInspiration.com Visitors' Reviews / Comments
Submitted by Unknown
Dorothy a small helpess girl from podunk, dreams of getting out somewhere better. Something happens and she gets her wish, and she finds that what she valued the most was right home where she was. With friends ( with basic traits of her friends back home) combining their talents to protect and to help her, she finally gets back to where she really wanted to be. There's no place like home!