Rudy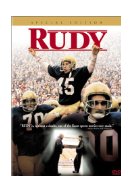 This Movie @ Amazon.com
(From $1.96)
This Movie @ Amazon.ca
(From $CAN 4.88)
This Movie @ Amazon.co.uk
(From £4.22)
Related Products (usually movies and/or books)
No Similar movie Found

BestInspiration.com Visitors' Reviews / Comments
Submitted by Unknown
Best movie of all time!!! Most inspiring film created!

Submitted by Unknown
I loved this movie and I have seen it over a hundred times...if you have any dream watch it


Submitted by Unknown
This movie has inspired me to follow my dream of being a state ranked runner.

Submitted by Unknown
What is left to say about Rudy. It is simply the most inspiration movie of all times. # 1 for any kid trying to accomplish something in life.

Submitted by Unknown
A truly inspirational movie. When I saw this category I first thought of "Rudy"

Submitted by Unknown
The most inspirational movie of our times!!! Live your dreams

Submitted by Unknown
I consider this to be the most motivational movie I've ever seen. The fact that it's a true story just makes it that much better!

Submitted by Unknown
What I like about this movie is that it is based on a true story. My favorite scenes are when he reads the "last chance" letter from Notre Dame granting him admission and when he finally gets to play in a game. The "real" Rudy can be seen as a Notre Dame fan at the end of the movie behind Ned Beatty's character.

Submitted by Unknown
Watch this with your kids, if you are a parent. Help them know that you can chase your dreams, thought the world says no, and sometimes, you will catch them.

Submitted by Unknown
I watched in on TV awhile ago and I must say, this simple story of the struggles of a man who only had his dreams yet persevered, really inspired me and that is the honest truth. Please do give this show a chance. There are times when all you have are your dreams but the whole world is against you, but take on a fighting spirit as Rudy did... to discover the abosolute joy in not only dreaming but achieving those dreams!

Submitted by Unknown
I think it's a nice exemple that persistence is one of the most important qualities that sportmen and people in general must have.It's not only a movie. It's similar to my own life.

Submitted by: TheNickel from NB, CANADA
RUDY, is bar none one of my top 5 "bring me up" movies. The soundtrack is amazing, and all you want to do after your done watching is literally kick butt. Mr. Ruttiger's story really helps you forget the stupid mundane things that aggravate you and really help you remember what the bottom line of life really is... STRIVE to be happy!