City Of Angels
Warning
: Creating default object from empty value in
/home/common_NEW/movies/moviesfunctions.inc
on line
289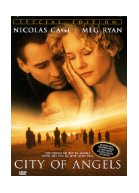 This Movie @ Amazon.com
(From $5.49)
This Movie @ Amazon.ca
(From $CAN 12.99)
This Movie @ Amazon.co.uk
(From £12.17)
Related Products (usually movies and/or books)
= Amazon.com   |   
= Amazon.co.uk   |  
= Amazon.ca.
BestInspiration.com Visitors' Reviews / Comments
Submitted by Unknown
This is a beautiful movie about an Angel pure in heart, that wants to taste the finest things in living, and that is thru God's human creation. He longs for a love so much, that he wants to replace his Angelic Body for and earthly one for the name of love. So Touching!

Submitted by Unknown
City of Angels is a romantic drama that touches the hearts and minds of its audience. It makes us question the existence of a greater and benevolent force that exists in the universe. It is a beautiful and inspiring story with a great script and two of the most talented actors, Meg Ryan and Nicholas Cage.