A Walk to Remember
Warning
: Creating default object from empty value in
/home/common_NEW/movies/moviesfunctions.inc
on line
289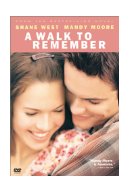 This Movie @ Amazon.com
(From $6.99)
This Movie @ Amazon.ca
(From $CAN 8.21)
This Movie @ Amazon.co.uk
(From £13.38)
Related Products (usually movies and/or books)
= Amazon.com   |   
= Amazon.co.uk   |  
= Amazon.ca.
BestInspiration.com Visitors' Reviews / Comments
Submitted by Unknown
The sweetest movie ever made! Jamie Sullivan (Mandy Moore) plays a Christian girl who inspires a guy who has no belief in him to believe in himself and learn to love and love other things. This is definetly an inspirational movie by far.

Submitted by: Air from Canada
This movie inspired my husband and I for our wedding. We used the song that she sang as our first dance and we used the passage she read in part of our church reading. We also gave out copies of the movie that we purchased as favours to our guests to inspire others.