Illusions: The Adventures of a Reluctant Messiah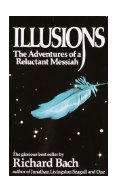 This Book @ Amazon.com
(From $5.71)
This Book @ Amazon.ca
(From $CAN 5.76)
This Book @ Amazon.co.uk
(From £9.79)
Related Products (usually books and/or movies)
= Amazon.com   |   
= Amazon.co.uk   |  
= Amazon.ca.
Other Books by Richard Bach listed on BestInspiration.com
Quotes & Excerpts
No Quote Found
BestInspiration.com Visitors' Reviews / Comments
Submitted by: the pot of three from uk
This is a great little book that changed my life, I am forever greatful to the soul that gave it to me one day.

A must read for anyone feeling the grind of modern pressures and confusion. We're all amazing people, we just have to realise it.

Submitted by: nia from Ma, USA
love all his books- helped with shifting my perceptions on life.