The Hiding Place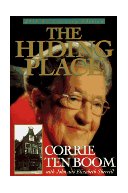 This Book @ Amazon.com
(From $10.32)
This Book @ Amazon.ca
(From $CAN 25.17)
This Book @ Amazon.co.uk
(From £21.60)
Related Products (usually books and/or movies)
No Similar Book Found

Other Books by Corrie ten Boom; John Sherrill listed on BestInspiration.com
No book found.

Quotes & Excerpts
No Quote Found
BestInspiration.com Visitors' Reviews / Comments
Submitted by Unknown
I have read this book, by Corrie ten Boom, that my mother has in her library at home. It is truly an inspirational story of her life. We all are certainly Blessed more than we really know and I recommend it anyone. Ralph

Submitted by Unknown
This book compleatly changed the way I look at life. It will give you a sence of hope like you've never experienced. I thought I had faith in God, until I read this and discovered what REAL faith is. Now, I have that. It is the most wonderful thing.

Submitted by: nia from Ma, USA
Wonderful book!