As a Man Thinketh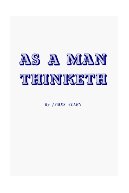 This Book @ Amazon.com
(From $3.34)
This Book @ Amazon.ca
(From $CAN 3.94)
This Book @ Amazon.co.uk
(From £2.99)
Related Products (usually books and/or movies)
= Amazon.com   |   
= Amazon.co.uk   |  
= Amazon.ca.
Other Books by James Allen listed on BestInspiration.com
Quotes & Excerpts
No Quote Found
BestInspiration.com Visitors' Reviews / Comments
Submitted by: Jackie from Georgia
One of the best books I have ever read. Great for ANYONE and it is NEVER too early to learn the concepts in this book. Truly award winning

Submitted by: issalomane from South Africa, Katlehong
Its a brilliant book which i will read over and over again. i am currently reading the master key to riches amazing as well. i enjoy James Allen and Wallace Wattles, i find their books amazing. Thanx.